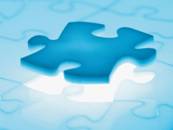 View
Information is an important asset in today's world. Effective usage puts high demands on security. Perimeter protection and protected networks are no longer sufficient. To make insider protection effective it must be easy to manage information about users, work roles, access rights, systems information and much more in a unified way but at the same time supporting heterogeneous networks of resources and collaborating users. Just running Windows AD is no longer sufficient. The requirements include Identity Management, Unified Systems Administration, Public Key Infrastructure (PKI) and Access Control (Authorization) for any system and service.

SysA is the standard products family for unified systems adiminstration. SysA Account Manager (the user interface) provides unified management of identity and systems information. Adding a new user is very simple - just add a new Person (representing the real User Person) and associate it with a SysA Profile. Next SysA will create all user accounts (user, group etc.) on all required resources (e.g. Windows Doamins, UNIX servers, Web services).
SysA Account Manager - Highlights
Identity management - Manage information about users (Persons) – e.g. name, full name, authenticate tokens (certificates etc), phone numbers or any other user defined information of interest
Unified Systems Administration - Resources available for SysA to be managed, e.g. Windows Domains / Computers, UNIX computers or any other COTS that has its own users or accounts data base
PKI - Trusted CA Management of PKI data – the CAs to be available or trusted for certificate authentication, CRL management etc.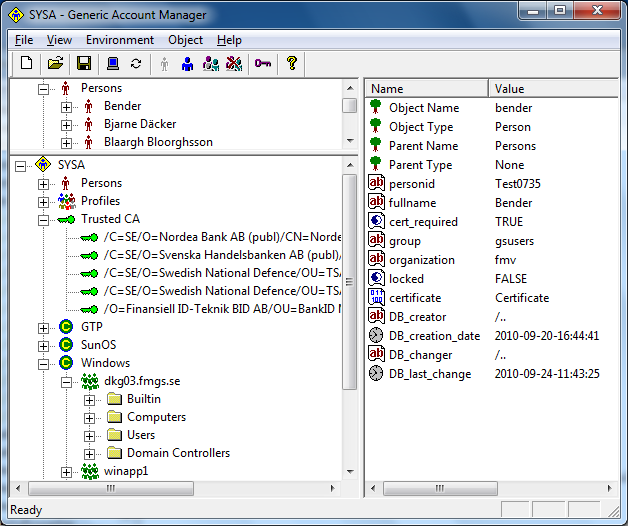 SysA is a Meta tool. It keeps its own master information in an object oriented data base. SysA communicates by means of its agents with each resource it is configured to manage. For example there will be a SysA Local Windows agent on each Windows AD domain server or on each windows stand-alone computer (if no AD is available). Information can be synchronized (import, export, merge) according to local policies between the SysA meta data base and its managed COTS local data bases (e.g. Windows, UNIX). The Adminstrators can use Windows standard tools to manage users in the Windows domain, or use SysA to manage all computers and resources (including Windows Domains) from any single-point on the networks. SysA central (master) servers and its local agents have well defined service oriented APIs. This makes it easy to dynamically add your own SysA agents or even your own graphical management tools.